Most Bougainvillea trees have thorns.
Some people claim that it's impossible to find a Bougainvillea variety without thorns, but it's not true.
In this post, I will reveal 4 thornless Bougainvillea varieties.
Are There any Bougainvillea Without Thorns?
Most Bougainvillea varieties come with thorns. However, there are two thornless varieties like Miss Alice, and Silhouette. There are also thorns with small thorns like Torch Glow, or the Bambino series.
Bougainvillea is a beautiful vine or shrub that shows a great display of blooms. However, the biggest disadvantage of this plant is its thorns, which keep a lot of people away from this plant.
But there are a few exceptions to this rule, and in this post, I will show you 4 thornless varieties of Bougainvillea.
Miss Alice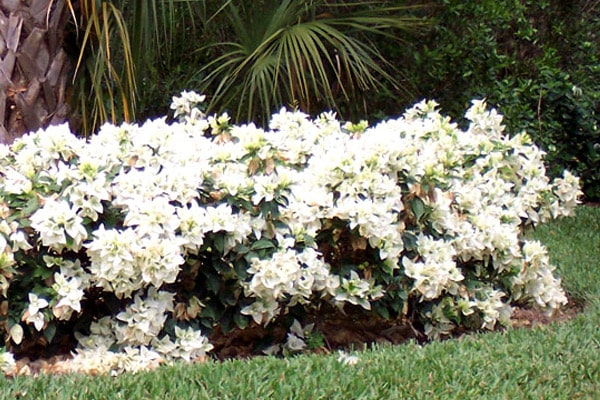 Miss Alice is a compact, bushy and beautiful show of clusters of bright white flowers. It can be used in containers, hanging baskets, and trellises. You can also try this one as groundcover.
It's considered one of the most beautiful Bougainvillea's out there. Its sharp, crisp white blooms are unmistakable. It's one of the dwarf, thornless and slow-growing varieties that you will always enjoy year-round blooms.
Miss Alice is easy to grow with minimal needs – full sun, well-drained soil, and intermittent irrigation as she is drought tolerant. Hummingbirds, bees, and butterflies will stop by often. Can be grown as a houseplant.
Silhouette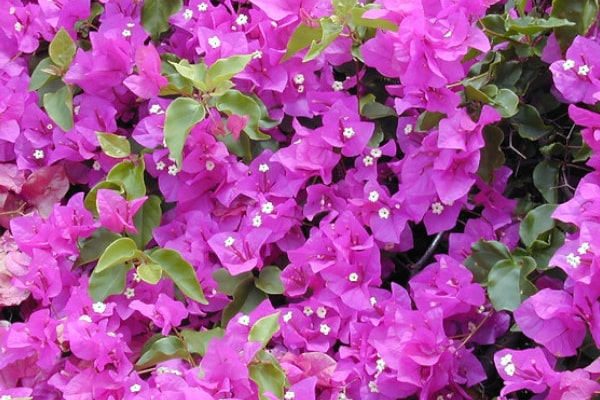 Bougainvillea Silhouette produces thornless, compact plants that sport lilac 'paper flowers', or bracts. This one is lovely in the landscape and is easily maintained!
Large light lavender bracts cover the entire vine. The foliage is deep green. It's a great choice for hanging basket, container or landscape subject in the garden.
If you want good blooming, give your Silhouette at least 5 hours a day of full sunlight as a minimum. More hours of direct sun is better. Your plant will thrive in shade or partial shade.
Torch Glow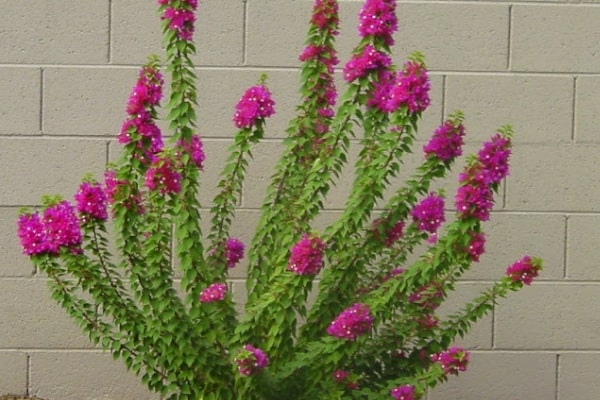 If your landscape is in need of bursting year-round color and a shrub that can display that 'wow' factor, look no further than the Bougainvillea Torch Glow.
The Torch Glow produces multiple compact stems that grow upright and out from the base. This growth pattern gives the Torch Glow a formal-looking layered look that looks clean in any landscape. The stems twist as they grow and they are covered in tiny green-colored leaves.
The stems form a conical shape at the top where a vibrant display of showy pink flowers clusters together. The top of the stems looks like a torch. The Torch Glow's stems are not like a vine, so a support system is not needed.
Blooms on the Torch Glow last longer, which reduces the amount of cleanup compared to other Bougainvillea varieties. Its minimal maintenance and thornless stems have made the Torch Glow a popular choice for many homeowners looking to add color to accent location or as a centerpiece to any landscape.
The Torch Glow requires minimal water once established and is extremely hardy in the heat. When grown in the full sun, the Torch Glow will produce even more flowers.
Bambino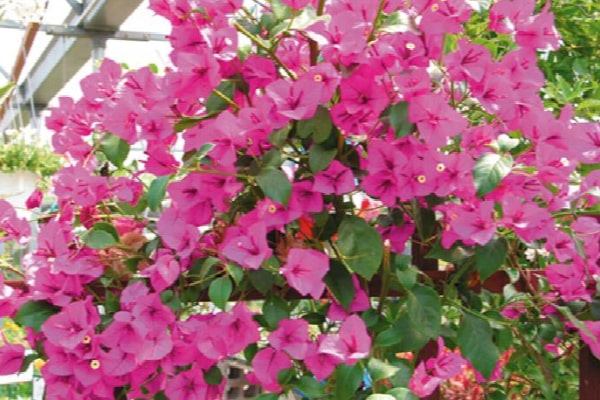 If you can accept minimal thorns, you should definitely consider Bambino series. There are varieties like:
Zuki
Bokay
Pedro
Shaba
Majik
Miski
Krishna
This series was introduced by Bougainvillea expert Jan Iredell. The Bambino varieties grow to around 1.5 m (5′) tall and wide. They still have thorns but they are not as sharp or as big as the larger growing varieties.
The flowers come in many colors, including pale and strong yellows, oranges, pinks, shades of lavender, white, and some bi-colours.
To get flushes of color throughout the year, you should fertilize the plant after flowering.
Sources
plantlifefarms.com, growjoy.com, plantsworld.in, moonvalleynurseries.com, burkesbackyard.com.au