If you're looking for a purple vine flower with a yellow center, but you don't know its name, this article is for you.
I've listed the most common purple wine flowers with white centers, so you can identify the flowers you're looking for.
Blue Sky Vine
Thunbergia Grandiflora, also known as Blue Sky Wine, is an evergreen vine, also grown as an annual. It has large, heart-shaped leaves 4-8 inches (10-20 cm) long, and trumpet-shaped purple, or lavender-blue flowers 3 inches (7 cm) across, with a yellow or white center.
Blue Sky Wine blooms throughout the summer and fall, and all year long in tropical countries. This flower grows up to 6-8 ft. (180-240 cm) tall in one season. Thunbergia Grandiflora requires support on which to climb, like fence, arbor, or trellis.
You can spot this flower in zones 8-11.
Clematis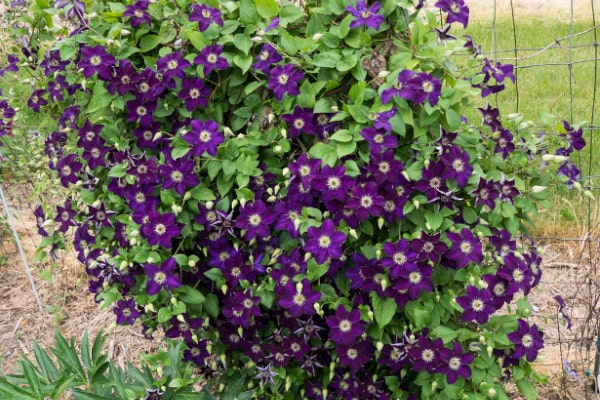 Clematis is a popular perennial climber or trailing plant, hardy in USDA Hardiness Zones 4 through 8. Small-flowering varieties produce an abundance of blossoms that last longer than larger ones. Many varieties are scented. Some are vines, while others are shrub, or trailing types.
Their flowers come in an array of shapes and colors. However, the most popular one is purple with a yellow center. Bloom time ranges from late spring to fall, depending on the type and variety.
Whether it's a summer-blooming variety with large, showy blooms, or a fall-blooming type of clematis with hundreds of smaller flowers, these vines make a stunning statement.
Lavender Trumpet Vine
A lavish display of lavender-purple, trumpet-shaped flowers will entice all types of winged visitors to the garden. Hummingbirds and butterflies especially love this plant. The vine climbs by attaching tendrils and spreads rapidly once established. It's easy to grow in a large patio pot if provided with a trellis.
The blanket of large, glossy, dark green leaves is a lovely contrast to the light lavender, trumpet-like flowers that have dark venation, giving them a painted appearance. Blooms continuously throughout summer.
Lavender Trumpet Vine quickly climbs 15 to 25 ft. (4.5-7.5 m) tall, spreading 10 to 20 ft. (3-6 m) wide. Grows in 9-11 zones.
Passion Vine
These fast-growing vines come in many flower colors and grow like there's no tomorrow. The most commonly grown is the purple Florida native vine (Passiflora incarnata) sometimes known as Maypop.
These vines are ornamental rather than grown for their fruit. They do produce edible fruit but it's not especially tasty.
Plan well for the rampant, vigorous growth of this vine. It requires support and plenty of room. One vine can run away from you – up trees, over the roof, into the neighbor's yard.
Morning Glory
As the name suggests, most morning glory flowers unfurl into full bloom in the early morning.
With slender stems and heart-shaped leaves, their trumpet-shaped flowers come in colors of pink, purple-blue, magenta, or white. Their fragrant, colorful flowers are not only attractive to our eyes, but also beloved by butterflies and hummingbirds.
This drought-tolerant plant grows quickly-up to 10 feet (3 m) in one season, and can self-seed fairly easily, too. 
Nightshade
Nightshade is a vine also known as Blue Potato Bush. It's a plant native to Paraguay and Argentina.
It boasts a non-stop display of fragrant, purple-blue flowers, adorned with yellow centers. The foliage of oval, bright green leaves remains on the plant in mild winter areas.
The plant grows up to 8-12 ft. (2.5-3.5 m)
Sources