So, you've seen a pine tree with pink flowers but don't know its name?
In this article, you will find it out!
Tamarix Ramosissima (Salt Cedar)
Tamarix Ramosissima, also known as Salt Cedar, or Tamarisk. It's a shrub or a small tree that features reddish, arching branches and plums of pink flowers. The flowers are produced from late summer to fall. The pink flowers turn the tree into a feathery mass of rosy-pink. The blossoms persist for 4-6 weeks. The plant is drought tolerant and isn't demanding when it comes to soil.
Tamarisk likes to grow in coastal areas thanks to its high salt tolerance. It grows typically 10-15 feet (3-4,5 m) high, with a spread of 8-13 feet (2,4-3,9 m). You can find it throughout all the USDA zones. It's probably the tree that you're looking for.
Tamarix Chinensis
Tamarix Chinensis is a hybris of Chinese Tamarisk and Salt Cedar. The shrub or the tree can grow even up to 30 feet (9 m). It has green, or gray-green leaves, reduced to small over-lapping scales. The plant flowers from March to September. Flowers are pink, deep pink, or whitish, in slender spikes terminating the branchlets.
Tamarix Chinsnsis prefers riparian areas, canyons with standing water, riverbanks, and roadsides. It usually grows in the western part of the US, but also in Arizona, Colorado, Oklahoma, or Nebraska.
Tamarix Gallica
Tamarix Gallica, also known as French Tamarisk originated in Saudi Arabia and can be found around the Mediterranean region, and in the USA, especially along streams and lake shores, throughout California. This small tree can reach up to 5 feet (1,5 m). It has fragile, woody branchlets that drop off in autumn along with the small, scale-like leaves that cover them.
The pink flowers are tiny, hermaphroditic, and are borne on narrow, feather-like spikes. They frequently bloom earlier than the leaves, first in May, and sometimes a second time in August.
Tamarix Dioica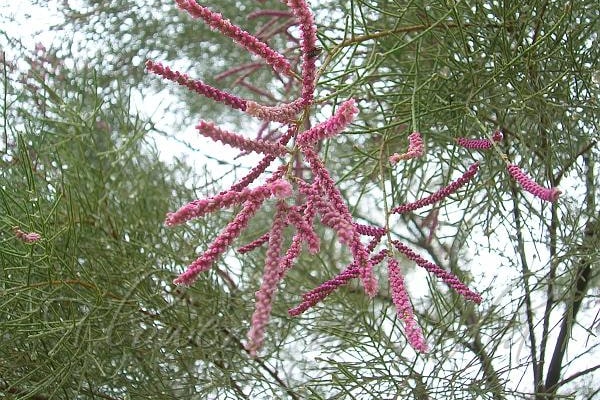 Tamarix Dioica, also known as Red Tamarisk. It's a shrub or under-sized tree with reddish bark, entirely hairless, leaves vaginate, abruptly tapering, 0,05-0,1 inches (1.5-3 mm) long, with a broad whitish margin.
Flowers are purple or purplish pink, nearly stalkless. The tree can grow up to 20 feet (6 m) long.
Tamarix Parviflora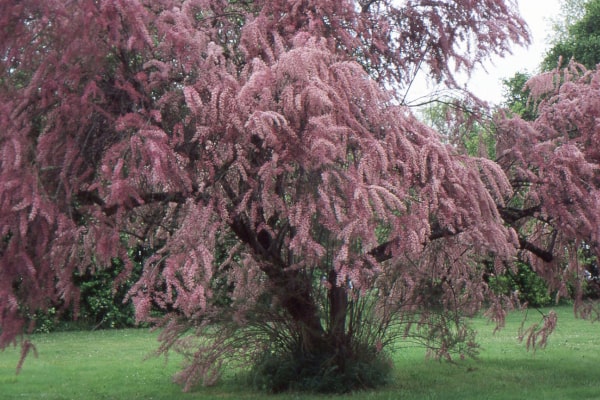 The common name of this shrub is Smallflower Tamarisk. You can find it in western North America, especially in Oregon, California, Arizona, Colorado, Illinois, Kansas, Kentucky, Mississippi, Nevada, and New Mexico. It easily inhabits moist habitats, especially in saline soils.
Tamarix Parviflora typically grows up to 16 feet (5 m). The branching twigs are covered in tiny linear leaves. The inflorescence is a dense spike with flowers -,4-1,5 inches (1-4 cm) long. Each tiny flower has four pink petals.
Conclusion
The pine tree with pink flowers that you're looking for is probably Salt Cedar, commonly known as Tamarix Ramosissima. It's the most popular Tamarix variety in the US. It has pink flowers that blossom in late summer or fall. The tree can get 10-15 feet (3-4,5 m) high.
If it's not Salt Cedar that you're looking for, consider other Tamarix varieties from this list. They're the most common in California, Oregon, or Arizona.
Sources
gardenia.net, southwestdesertflora.com, en.wikipedia.org, cal-ipc.org, flowersofindia.net