If you're looking for the best grinder for dried peppers, look no further.
In this article, I will show you the top 5 best grinders for dried peppers, and describe each of them.
How Does Dried Pepper Grinder Work?
A dried pepper grinder lets you grind dried and hard whole peppers. Electric dried pepper grinders use a spinning blade to pulverize whole dried peppers into powder. Depending on your preferences, you can grind peppers into a fine, or coarse powder.
By using a grinder for dried peppers, you can enjoy the opportunity to take full advantage of the complex flavors that may not be present in pre-ground and processed peppers. Grinding dried peppers lets you avoid buying processed peppers that may contain additives and food chemicals.
Grinded dried peppers can be used to make soups, ketchup, stews, chili or tomato sauce, or even chocolate desserts.
What to Look for in the Dried Pepper Grinder?
Before you buy a dried pepper grinder, make sure it has these features:
Type
There are two main types of dried pepper grinders-electric and manual. If you're looking for a grinder that will quickly process your dried peppers, even in large amounts, the electric grinder is your best choice. You can also buy a manual grinder, but it takes more effort to grind peppers, and it doesn't allow you to adjust grinding settings.
Capacity
You need to choose a grinder with the right capacity. If you intend to grind dried peppers every once in a while, in small amounts, choose a grinder with as small capacity as possible. If you grind peppers in large amounts, you should opt for a bigger grinder.
Ease of cleaning
You can spot grinders with a removable cup, and non-removable cup. Of course, it's easier to clean a grinder with a removable cup, because you can bring it out, and clean it. With a non-removable cup, it takes a bit more effort.
Speed
The faster the spinning blades operate, the better for you. If you choose a fast grinder, it will not only save you time, but also prevent your dried peppers from heating up too much by prolonged grinding. If your dried peppers spend too much time in the grinder, they will lose most of their fresh flavor.
To make the list of the 5 best grinders for dried peppers, I took into account every important aspect, so you can buy the best grinder for yourself.
1. Cuisinart SG-10
The best electric grinder for dried peppers is the Cuisinart SG-10. It offers great grinding speed and large capacity. It features a 200-watt motor, which is enough to grind not only dried peppers, but also other spices, herbs, and even nuts.
It's a perfect choice if you want to grind many peppers at once because the bowl is able to hold up to 90g (3,17 oz).
The Cuisinart SG-10 is able to pulverize dried peppers to a powder in about 50 seconds. Stainless steel blades are sharp and of high quality. It last long without warming up-even up to 2 minutes.
You can easily clean this grinder thanks to the removable stainless steel bowl. The bowl, and lid, can also be put in the dishwasher.
The Cuisinart SG-10 contains a built-in safety interlock that prevents operation unless the lid is securely in place. The grinder is easy to operate, with an on/off button placed at the top.
2. KitchenAid Blade Coffee and Spice Grinder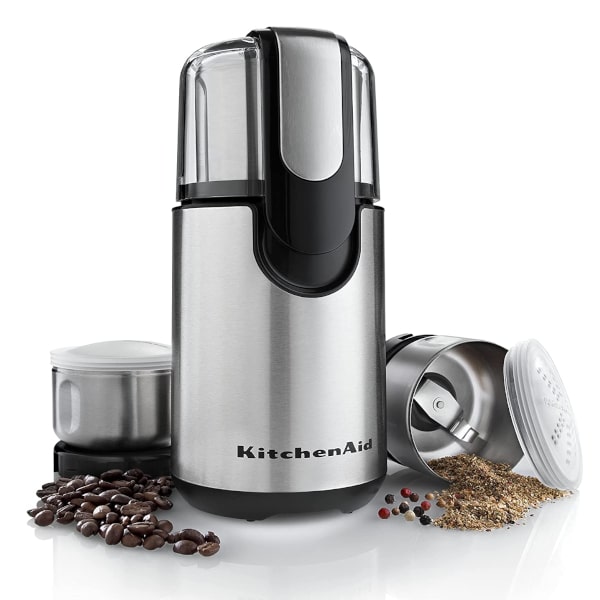 KitchenAid Blade Grinder is a great option for you if you're looking for a multipurpose tool. It's able to grind dried pepper, spices, as well as coffee.
It comes with 3 separate bowls, so you can use one for coffee, one for dried peppers, and another one for another spices, without cleaning them after use. Also, the KitchenAid Blade Grinder is equipped with 2 storage lids to save your food for later.
The grinder is extremely easy to use. It features one-touch control, and you can see your spices grinding thanks to a clear cover.
The bowl is able to hold up to 110 grams (4 oz). The performance of this grinder is top-notch, and stainless steel blades let you grind very quickly and efficiently.
The only disadvantage of the KitchenAid Blade Grinder is its noise.
3. KRUPS Silent Vortex Electric Grinder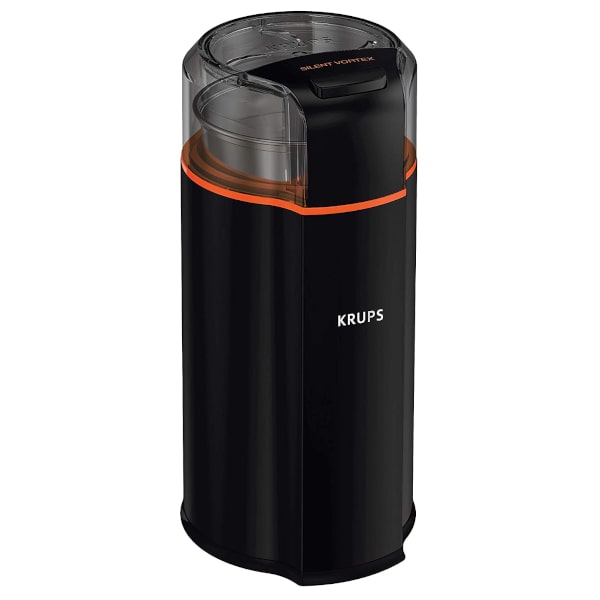 If you're tired of noisy grinders, the KRUPS Silent Vortex Grinder is something that you are looking for. The motor is quiet but efficient- it has 200 watts, so it's fast and powerful.
It can grind dried peppers, coffee beans, or nuts. It doesn't have as big capacity as its two latest competitors, because it can hold only 85g (3 oz), but for most kitchen addicts, it should be more than enough. It's enough to make roughly 12 cups of coffee.
The grinder features a removable stainless steel bowl that can be cleaned easily in the dishwasher. There is also a storage lid that lets you cover the bowl and keep your dried peppers, or other spices fresh. However, the lid can be challenging to clean.
4. Secura Electric Coffee and Spice Grinder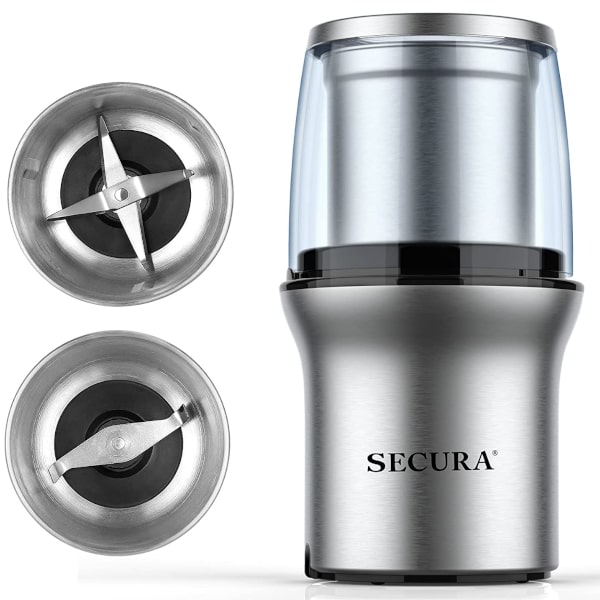 Secura Grinder is another multipurpose option on the list. It comes with 2 bowls. One bowl has 2 blades, and should be used for dried peppers, spices, seeds, coffee, and nuts. Another bowl has 4 blades, and it's for wet ingredients, like herbs, chilies, or garlic.
The capacity of this grinder is 80g (2,82 oz). Like its competitors, it contains a lid for keeping your spices, and coffee leftovers fresh.
To enhance the lifespan of the 200-watt motor, the Secura Grinder comes with overheat protection. Moreover, it features a safety-lock lid, and the manufacturer offers a 2-year warranty.
The cons? It's noisy and doesn't do too well with herbs.
5. Brentwood CG-158BL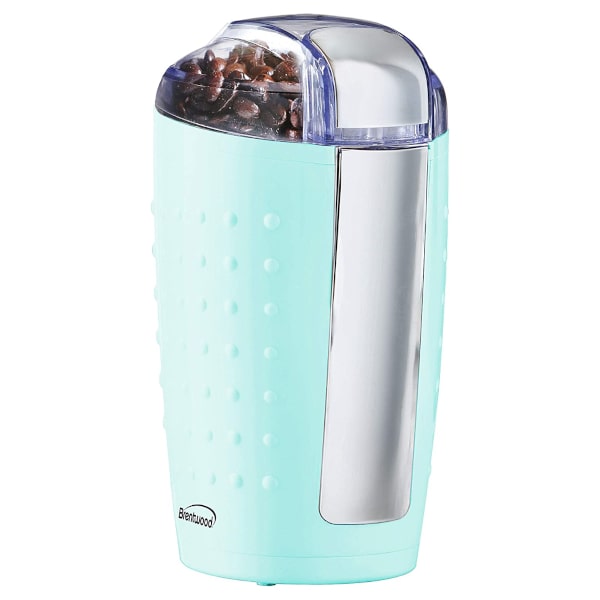 If you're on a budget, you can buy the Brentwood CG-158B. It's about two times cheaper than its competitors, but it can be an interesting option.
The motor is not 200-watt like its competitors, but 150-watt. However, you should be able to get a medium-fine to coarse grind.
The bowl is fixed, so cleaning might be harder. You can choose between two colors: black or blue. In most cases, its grinding performance is good, but it lacks consistency.
For the price, it's an affordable option, if you're not an advanced kitchen geek.
FAQ
Is There a Difference Between a Spice Grinder and a Coffee Grinder?
The difference between a spice grinder, and a coffee grinder, is that the spice grinder uses spinning blades that chop spices. A coffee grinder uses burrs that pulverizes the beans. However, if, you're not a coffee expert, you can use a multipurpose spice grinder to achieve an acceptable level of coffee taste and consistency.
What Can I Use Instead of a Spice Grinder?
If you don't have a spice grinder, you can use:
Mortar and pestle
Manual coffee grinder
Electric coffee grinder
Can I Use My Coffee Grinder to Grind Spices?
Occasionally, you can use your coffee grinder to grind spices. However, it's not recommended, because grinding spices can affect the taste of your coffee, and coffee grinder blades aren't designed for grinding spices.
Sources
catsupandmustard.com, thespruceeats.com, amazon.com, allrecipes.com